BALANCE YOUR SKIN
Skin works daily effortlessly to balance out the affects of internal and external stressors. Our skin visibly reflects the impact these of stressors. These weigh on the skin. So skin can look dull, distsressed and overwhelmed. This mixture of factors drives how our skin reacts. Balance for your skin means enhancing your skin's strengths whilst working harder to combat the affects of negative stressors.
At Kind Origins, we bring together skincare products that use ingredients from nature and plants to restore skin's glow radiancy and youthfulness. Find independent natural beauty brands that make it simple and easy to effectively care for and balance your skin.
SHOP NOW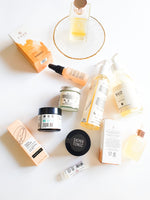 Holistic Beauty
Skincare is integrated with our health and intertwined with our lifestyle.
As it is important to support our skin internally and externally. Plant - powered skincare
There are many skin - loving properties found in plants and flowers so you can nourish your skin with the goodness of nature. Eco - conscious skincare
Discover brands with recycable packaging , biodegradable ingredients for waste-reducing and eco conscious skincare. So you can make Sustainable choices that can be a positive impact on the planet